7Pad music app can control any midi sound source : your android device or an external hardware or software synth with midi features. To produce the sounds from your device 7Pad use FluidSynth engine (as a dynamically linked library). It needs a separated Sound font (.sf2) making your device able to play General Midi sounds.
7Pad embed a default small free sf2 bank you can download from here. You can use a compatible GM sound font file and load it into 7Pad Synth engine :
Step by Step : Access the sound font loading dialog by clicking the corresponding button in 7Pad Sound control panel :
1 Click the sound font button to access the sound font loader, it will show the current loaded sound font file name in blue.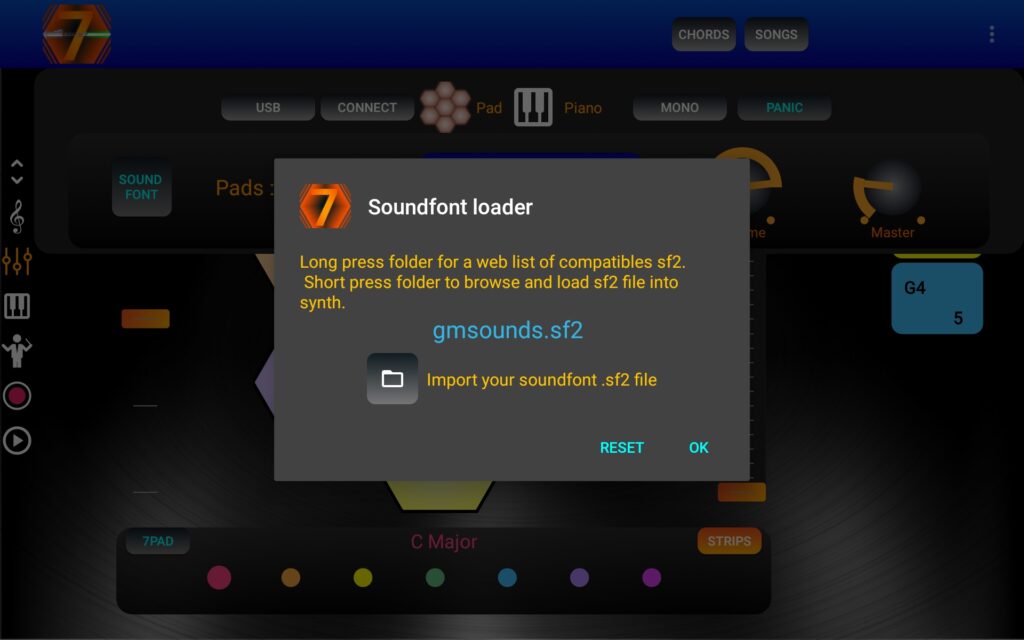 2 Touch the folder button to select a .sf2 file from a folder in your device, You must first allow the app to access photos media and files in order to read .sf2 files and write other 7Pad files ( songs and pad sets), so you'll probably have to touch the folder a 2nd time.
3 Now select the file you want to load : .sf2 format only is accepted, and limited to a maximum size of 300 MB.
4 You will see the Sound font loader dialog displaying Loading sf2 … and the SF2 file name when load is ended, click ok to close the dialog.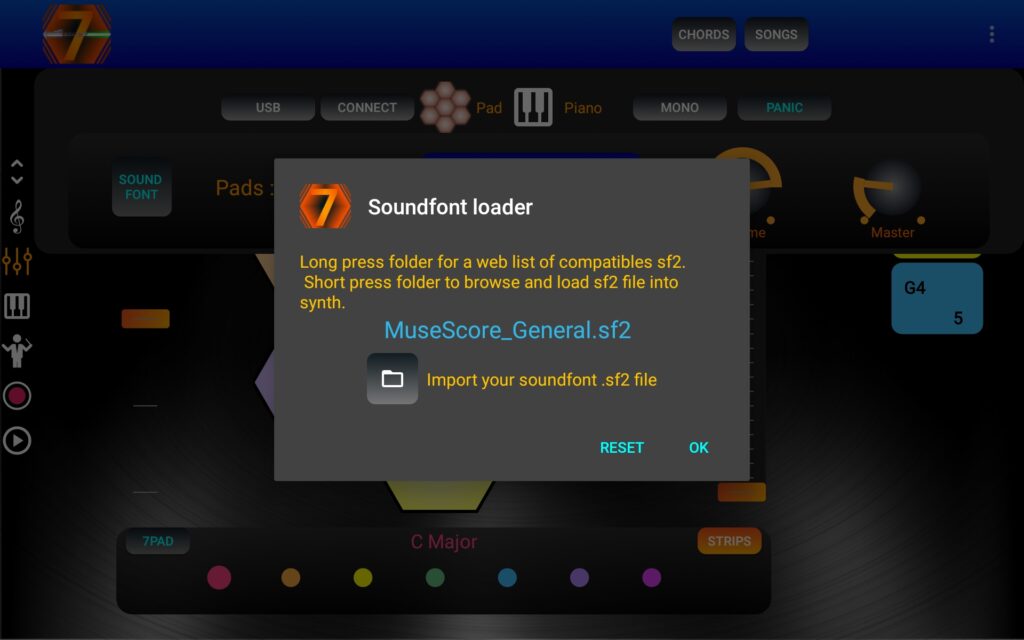 Finished ! You can now play your 2 GM sounds from your device at a time : one sound for Pads (chords) and the other for piano (keyboard). Sound setup is made from the sound panel (tap the 3 bars view-meter icon on the left )
NB: Result may vary depending on the quality of your .sf2, proceed with caution and do not try to load a non sf2 file.
NB 2 : The .sf2 file to load is persisted between app starts, so in case of persistent sound not working, click the reset button or alternatively just download from here the default sf2 file and restart from 1 to load it.
More on sound control here: http://www.sevenpad-music-app.top/7pad-2-4-1-more-controls
To control external software or hardware synths and sounds, check these videos tutorials :
Wireless midi out control over WIFI