Try 7Pad before you buy, what am i buying ?
The scale filtering system and the virtuoso scale pack (details) was released adding 40 + scales to the main 7Pad scales. This was an addition advanced musicians asked for, while some other 7Pad users were using only basic ( main ) scales or not using piano scales at all.
To keep the app at a very affordable price for all users, we decided to cut the premium ( paid ) or free options with another separated "Virtuoso" scales pack.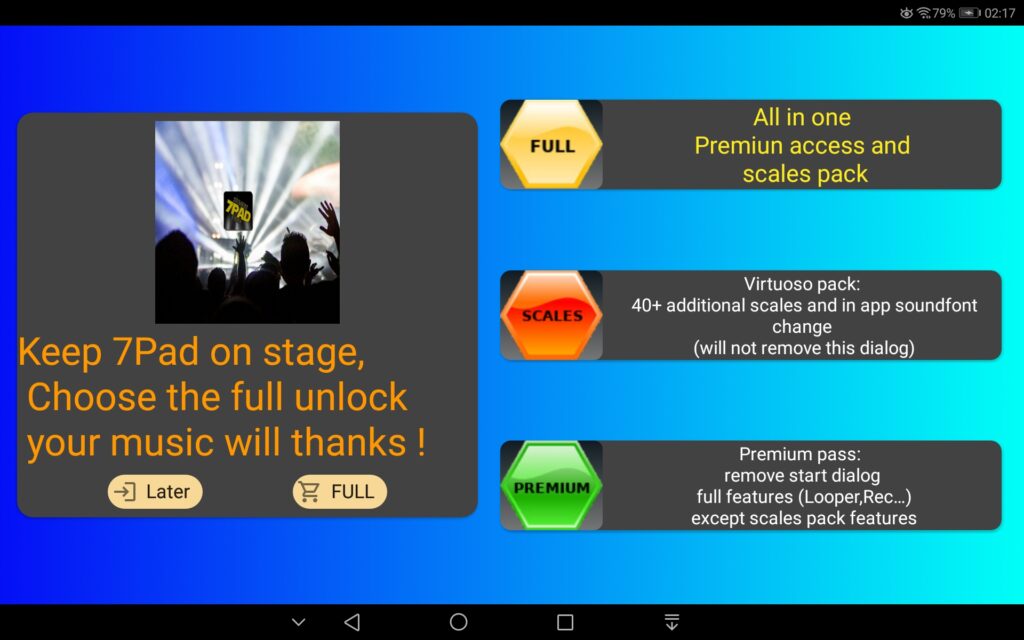 So you have 3 possibles in app purchase :
PREMIUM
Unlimited app access, except for Virtuoso pack, in details :
Remove the startup dialog.
Main scales except virtuoso
Add some songs ( chord progressions ) and pad sets ( ready to play custom arranged chords in pad groups) you can open from app menu.
Your personal Songs and "pad sets" can be saved and reload as files to/from your local storage.
Add access to looper configuration.
Add load your audio backing tracks from your local storage.
Add USB to midi Input and Output.
Add Easy play mapping to white keys for scales and arpeggios.
PREMIUM is cheaper than FULL all in one and a good choice if you don't need those extra piano scales , sound-font loading and scale filtering options .
SCALES
If your main goal is to play and learn piano scales, you will get all piano scales access and filtering, add Easy play mapping to white keys for scales and arpeggios, internal sound-fonts loading and nothing more. if you don't buy another purchase, the app stays with other limitations. This is also a good choice if you want to update from premium.
FULL
That is PREMIUM and SCALES, if you buy this you get it all, no need to buy anything else ( unless you want to help us even more ).
CONCLUSION
You can play and learn a lot of scales for piano with 7Pad, they are accessible at very low price, you can use them in conjunction with chord progressions or loops you play and automating scale changes from your favorites scales, enjoy the music and have fun !